With its red and white colours and delicious strawberries, the strawberry tart is a true Danish summer classic.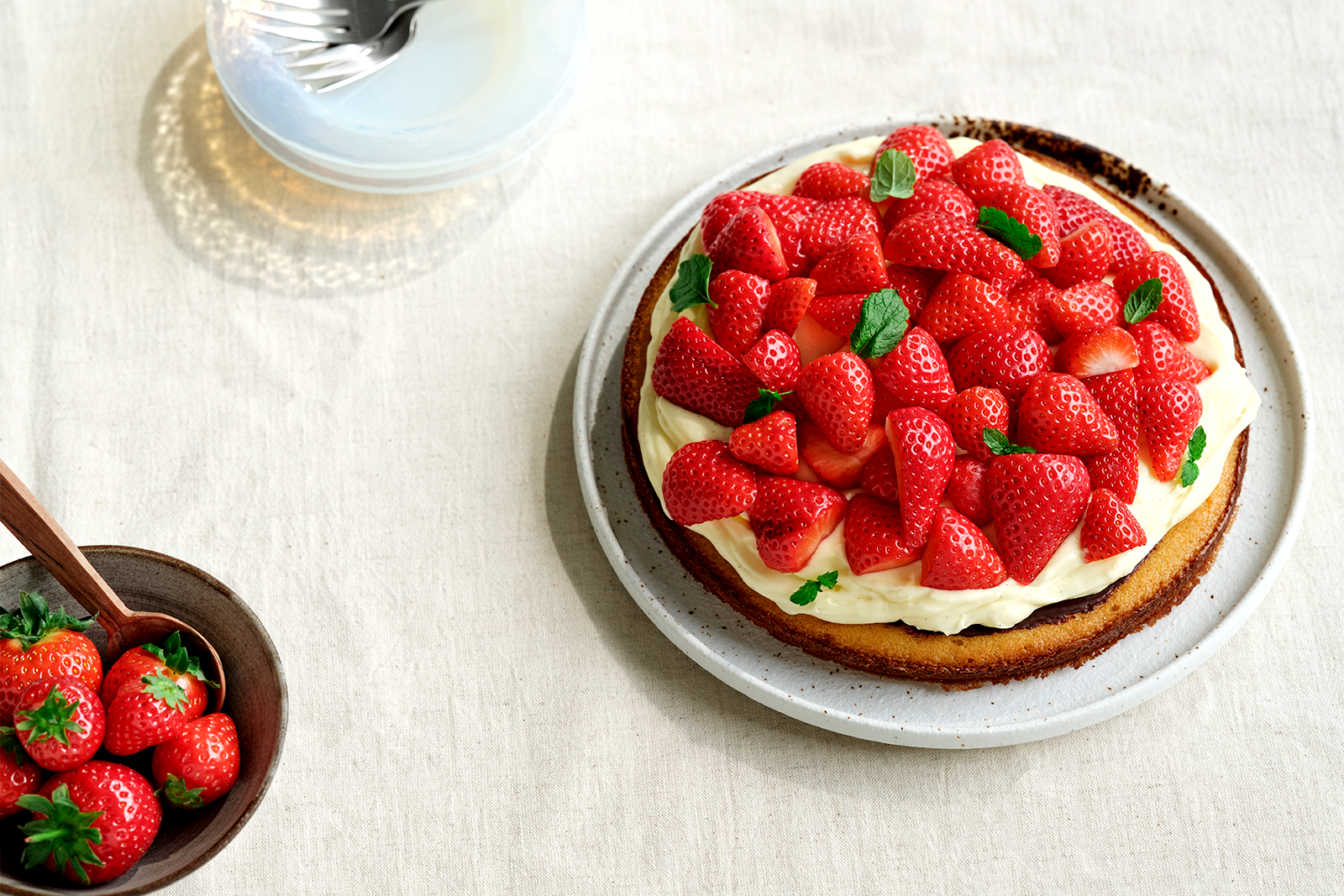 Serves 8 people
Prep: 30 minutes
Total time: 2 hours
Ingredients
Tart shell
250 g / 8.8 oz marzipan

80 g / 2.8 oz sugar

7 oz softened butter

4 eggs
50 g / 1 oz all-purpose flour
100 g / 3.5 oz dark chocolate
Vanilla custard
3 tsp vanilla sugar
3 egg yolks
50 g / 1 oz sugar
2 tbsp corn starch
2 dl / 0.85 cups milk
1 dl /0.42 cups double cream
Additional ingredients
500 g / 17.6 oz fresh strawberries
Handful fresh mint (optional)
Method
Tart shell
Heat oven to 175°C / 347 °F
Grate the marzipan and mix thoroughly with the sugar. Whip the mixture with butter until fluffy.
Whip the eggs into the mixture and then folk the flour into the dough. Line an approximately 24 cm springform pan with baking paper and grease with butter. Then roll out the dough and transfer to the pan. Bake in the middle of the oven for approximately 25 minutes. Prepare the vanilla custard while the dough bakes.
Finely chop the chocolate and sprinkle over the shell after baking. Spread out the chocolate with a spatula as it melts. Allow the shell to cool to room temperature.
Vanilla custard
Mix vanilla sugar, egg yolks, sugar and corn starch in a saucepan. Turn the heat to medium and whisk in the milk. Heat the mixture while stirring until it thickens. Transfer the custard to a container and cool completely.
Whip the double cream to a light foam and folk into the cooled vanilla custard.
Tart assembly
Rinse the strawberries, remove the stems and quarter from top to bottom
Spread the vanilla custard in a thick layer on top of the tart shell. Top with the fresh strawberries and fresh mint (optional). Bon appétit!