Cuisine
Old-fashioned Danish Apple Trifle
The literal translation of æblekage – a classic, old-fashioned Danish dessert – is apple cake, but it has more in common with a trifle or a crumble. It is a lovely dessert on top of a good meal, and then it's pretty easy to make. Enjoyed throughout the year, æblekage is always served cold with a generous layer of whipped cream.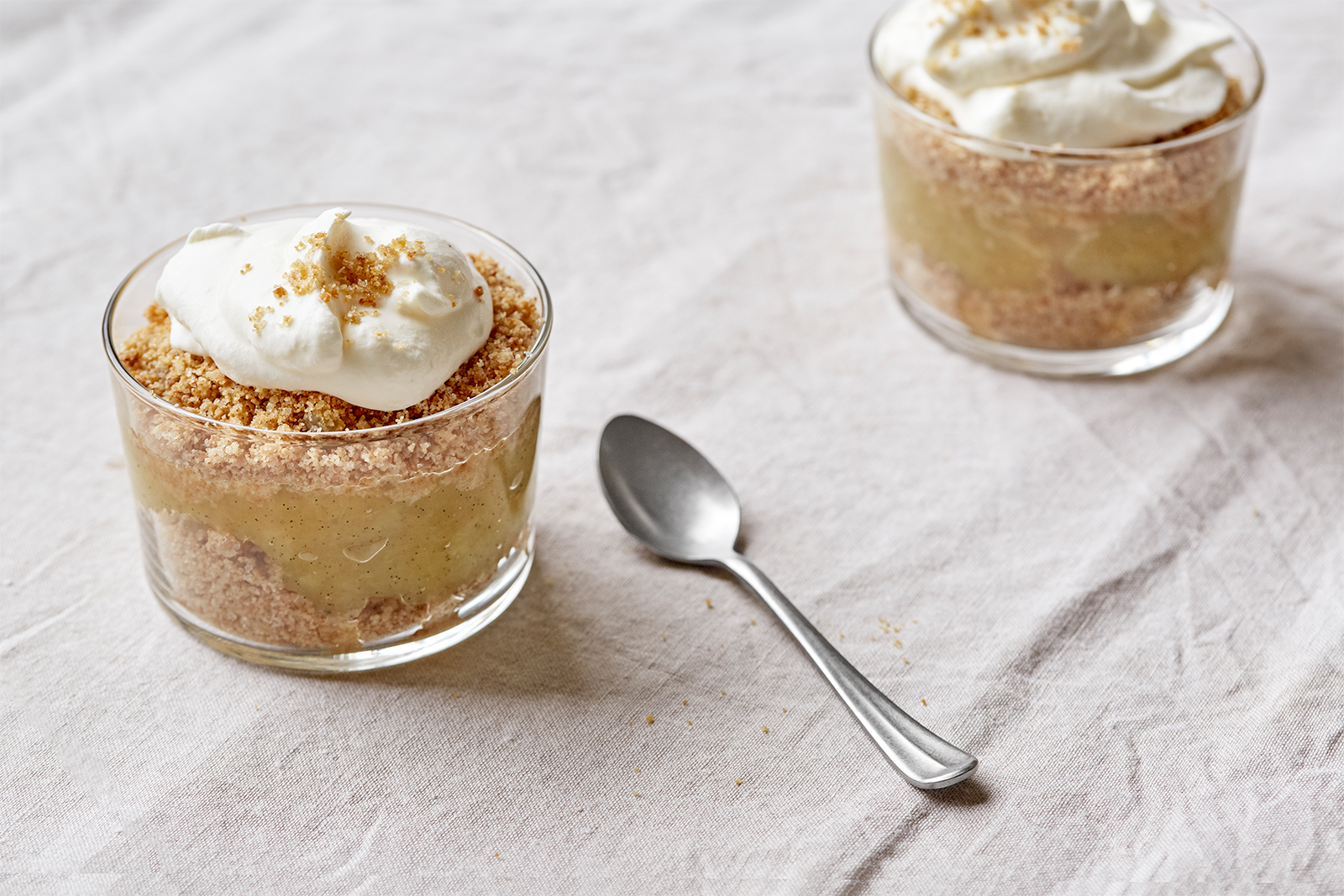 Tip. Make the apple sauce a day in advance for added flavour.
Serves 4 people
Prep: 20 minutes
Total time: 40 minutes
Ingredients
Apple sauce:
800 g /28.2 oz tart cooking apples
½ dl / 0.2 cups water
1 tsp vanilla powder (or seeds of ½ vanilla bean)
1 tbsp lemon juice
3-5 tbsp sugar, depending on the apples
Breadcrumbs mixture:
50 g / 1.76 oz butter
100 g / 3.5 oz breadcrumbs
50 g / 1.76 oz sugar
Whipped cream:
2 dl / 0.84 cups double cream
Method
Peel and cut the apples into cubes. Discard the cores. Transfer apple cubes to a saucepan with water, vanilla and lemon juice. Bring apples to a boil, cover and reduce heat to medium-low.
Add the sugar to taste after the apples release their juices. The amount of sugar depends on the tartness of the apples and your preferred level of sweetness. Remember that the breadcrumb mixture and whipped cream are also sweet, so it is okay if the apple sauce is still a bit tart.
Cook the apples for about 15 minutes until you have a coarse apple sauce. If you prefer, cook the apples longer for a finer consistency.
Refrigerate the applesauce.
Breadcrumbs mixture:
Melt butter in a pan. The butter must not brown. Add breadcrumbs and sugar and stir to combine.

Slowly toast the mixture as you stir with a spatula. Do not heat the mixture for too long – it only takes a short time to make.

Once the breadcrumbs are lightly golden, remove from the pan and cool on a sheet of baking paper.
Assembling the apple trifle:

Do not assemble the trifle until right before serving. Otherwise, the rasp will become soggy. Serve the trifle in individual small glasses or a large glass bowl.

Lightly whip the double cream.

Layer the ingredients in the glasses or bowl, starting with breadcrumbs in the bottom, followed by chilled apple sauce and breadcrumbs again. You can make several layers of breadcrumbs and apple sauce, then top with a generous layer of whipped cream. Serve immediately.