Cuisine
Traditional Danish Layer Cake
A layer cake consists of multiple stacked sheets of cake held together by frosting or another type of filling, such as jam. It is served for birthdays, anniversaries, and other celebratory events. Only your imagination sets limits for fillings and toppings.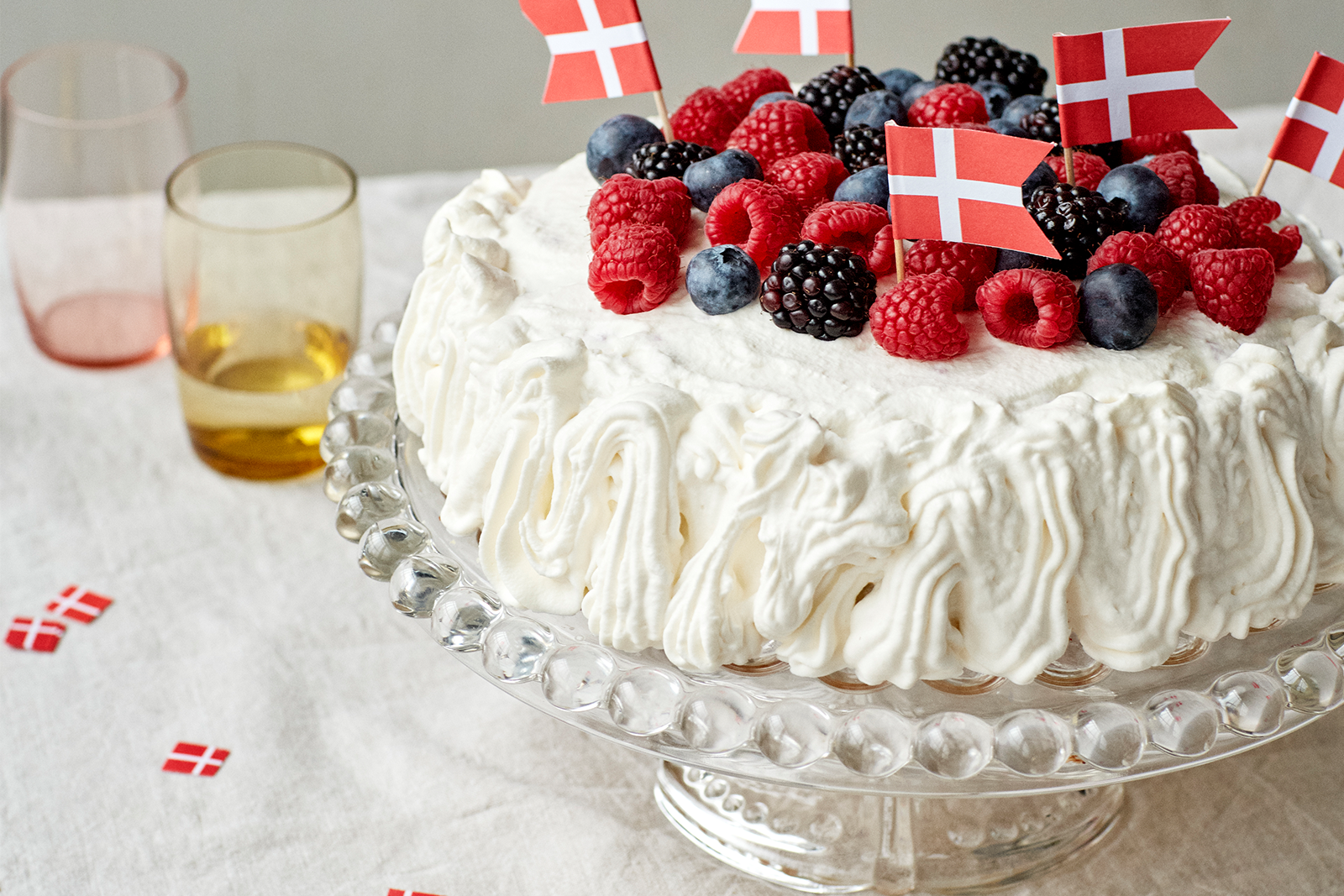 Serves 12 people
Prep: 1 hour
Total time: 2 hours
For added flavour, you can make this layer cake one day in advance – except for the whipped cream topping, which you should add shortly before serving.
Ingredients
Cake:
3 large eggs

170 g / 6 oz sugar

1/2 tsp vanilla powder

70 g / 2.5 oz all-purpose flour

1 tsp baking powder

70 g / 2.5 oz potato starch

1 lemon
Custard:
2 dl / 0.84 cups milk

2 dl / 0.84 cups double cream

1/2 tsp vanilla powder

1 egg + 2 egg yolks

2 tbsp sugar

2 tbsp corn starch
Raspberry mixture:
250 g / 8.8 oz frozen raspberries

3 tbsp sugar

2 tbsp water

3 sheets gelatine

½ organic lemon (optional)

2 dl / 0.84 cups double cream
Whipped cream:
½ l / 2 cups double cream
Additional ingredients:
Method
Cake:
Preheat oven to 200°C / 392

℉

(180°C / 356

℉

fan setting). Whip egg, sugar and vanilla sugar until it forms a fluffy "egg nog".

Sift flour, baking powder and potato starch into the egg mixture. Gently fold the ingredients with a spatula.

Add lemon juice and fold gently.

Grease a springform pan (20-22 cm diameter) with butter or cover bottom with baking paper. Fill the springform pan with the dough.

Transfer pan to middle rack of oven and bake for approximately 25 minutes until it is spongy when pressed on top.

Let the cake cool in the pan before cutting it loose and removing. Wrap cake in plastic wrap until you assemble the layer cake.
Custard:
Heat double cream and milk in a saucepan until just before the boiling point.

Combine the other ingredients in a bowl and mix with a hand mixer and let it cool down a bit.

Pour the milk mixture into the egg mixture and mix with hand mixer.

Pour the combined ingredients back into the saucepan and heat slowly over low heat while whisking. The custard will begin to thicken. Continue whisking until the custard is thick and then remove from heat.

Refrigerate the custard to cool and stir a few times before assembling the layer cake.
Raspberry mixture:
Combine raspberry, sugar and water in a saucepan and heat gently.

Put gelatine in a bowl of cold water.

Boil raspberry mixture until raspberries break down and are tender.

Strain raspberry mixture through a fine-meshed strainer into a bowl. Press mixture through the strainer using a spatula to remove the seeds.

Add lemon juice and grated lemon zest to taste.

Remove gelatine sheets from water and wring. Add gelatine to the bowl of warm raspberry purée and stir until the gelatine melts. Let the mixture cool slightly.

Whip the double cream to form a light whipped cream. Add the whipped cream a little bit at a time and fold into the purée.

Now you are ready to assemble the cake.
Assembling the layer cake:
Slice your layer cake in three sections using a long serrated bread knife.

Spread a layer of raspberry jam on each layer and place the bottom section on a cake dish.

Spread a generous layer of custard on top of the bottom section. Place the middle section on top of the custard and spread raspberry mixture on top. Then place the top section on top of the middle section. Now you can refrigerate the cake until it is time to decorate it (preferably the following day).

Decorate the top with firmly whipped cream and fresh berries.