Cuisine
Open-faced Sandwich With Potato
Smørrebrød is a Danish open-faced sandwich with a slice of rye bread, salted butter, and a variety of ingredients. The variant with potato is a classic which is especially tasty in June and July when the Danish potatoes grown in the open field are in season. It is also one of the only vegetarian variants of smørrebrød.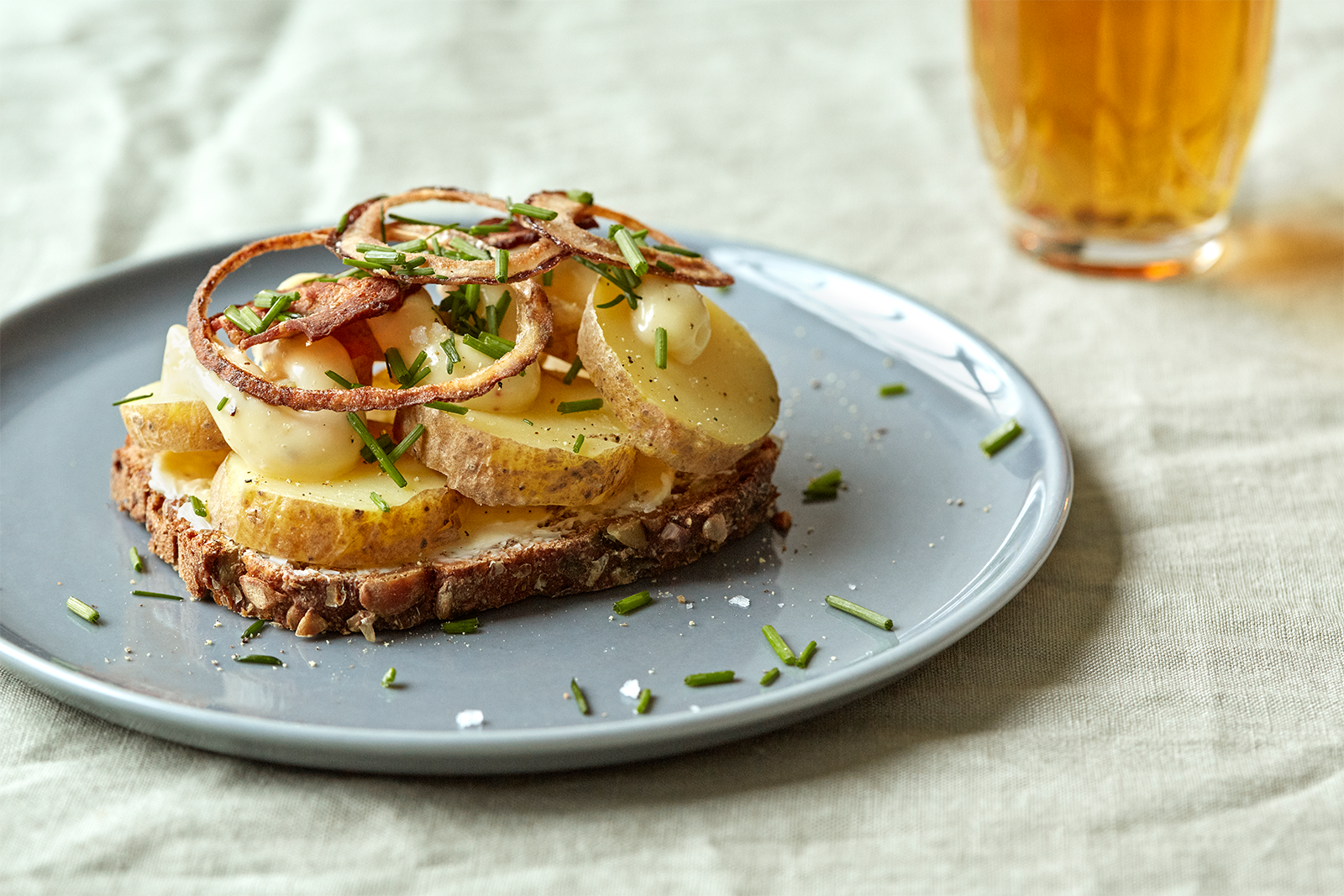 Serves 4 people
Prep: 15 minutes
Total time: 30 minutes
Ingredients
500 g / 17.6 oz small round potatoes, preferably new potatoes
4 slices bacon
4 tbsp mayonnaise
½ bunch chives
8 slices dark rye bread
Crispy fried onions:
2 red onions
1 dl / 0,42 cups all-purpose flour
3 dl / 1.26 cups neutral oil
Sea salt flakes
Method
Scrub the potatoes clean and place in a small saucepan with water and 1 tablespoon of salt. Bring to a boil and simmer the potatoes for about 10 minutes. Turn off the heat and let the potatoes stand in the water for 5 minutes. Drain the potatoes and allow to cool slightly. Remember that potatoes come in various sizes, so the cooking time may vary – if they do not easily glide off of a fork when speared and lifted out of the water, they are not done yet.

Fry bacon slices and transfer to a dish lined with paper towels.

Peel the red onion and slice in thin rings.

Transfer the flour to a bowl and toss the onions in the flour. Remove onions and shake off excess flour.

Heat the oil in a saucepan over medium heat. You can test whether the oil is hot enough by adding a small piece of onion to the saucepan. If the oil bubbles around the onion, the oil is ready.

Transfer as many onion rings to the saucepan as can fit in one layer. Do not add too many onion rings at once.

Fry the onions for a couple of minutes until they are golden brown. Transfer onions to a dish lined with paper towels and sprinkle with salt. Repeat the process until all onions are fried.

Butter a slice of dark rye bread and arrange round potato slices (or, if the potatoes are very small, halved potatoes) on top. Top your open potato sandwich with a good mayonnaise, crispy fried onions, fried bacon and sliced chives.