Cuisine
Chicken Salad With Mushrooms and Bacon 
The love for rye bread is high in Denmark. One of the preferred types of topping is the chicken salad. Chicken salad is enjoyed all year long, but is extra popular at Christmas and Easter lunches.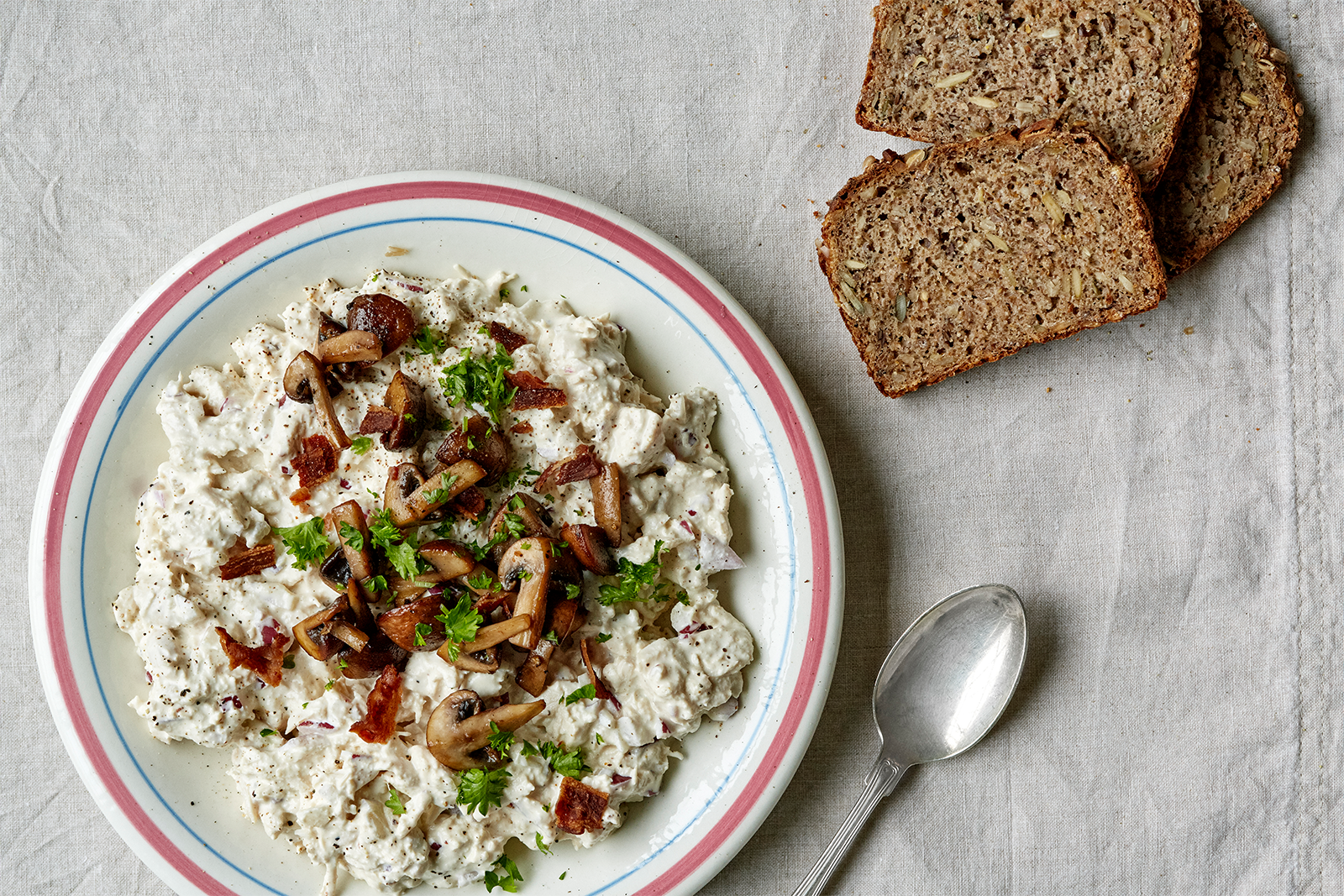 Serves 4 people
Prep: 10 minutes
Total time: 30 minutes
Ingredients
300 g /10.6 oz chicken breast
1 shallot/red onion
3 tbsp mayonnaise
4 tbsp crème fraîche
2-3 tsp Dijon mustard
1 tbsp apple cider vinegar/lemon juice
100 g / 3.5 oz bacon
250 g / 8.8 oz brown mushrooms
A few sprigs of parsley or chives, for garnish
Salt & pepper
Method
Place chicken breast in a saucepan and cover with water. Bring to a boil, add 1 tsp salt and simmer for approximately 15 minutes. Allow chicken to cool and then shred meat with two forks.
Finely chop shallot/red onion.
Stir mayonnaise, crème fraîche, Dijon mustard and apple cider vinegar to combine. Season with salt, pepper and extra Dijon mustard to taste. Combine with onion and chicken.
Fry bacon until crisp and transfer to plate lined with paper towels.
Rinse mushrooms, slice and fry in the same pan as bacon until golden (approximately 5 minutes). Season with a bit of salt and pepper.
Arrange your chicken salad in a serving dish, topped with crisp bacon, mushrooms and chopped parsley. Serve on a slice of light or dark bread.