Cuisine
Hveder - Danish Wheat Buns
Hveder is the Danish name for the wheat buns eaten at the occasion of the Great Prayer Day, which is the fourth Friday after Easter. In 1686, a Danish bishop declared that nobody was allowed to work on Great Prayer Day. With closed bakeries, people had to get their bread the night before and then toast them on the day. Today, most Danes eat their hveder on the evening before Great Prayer Day.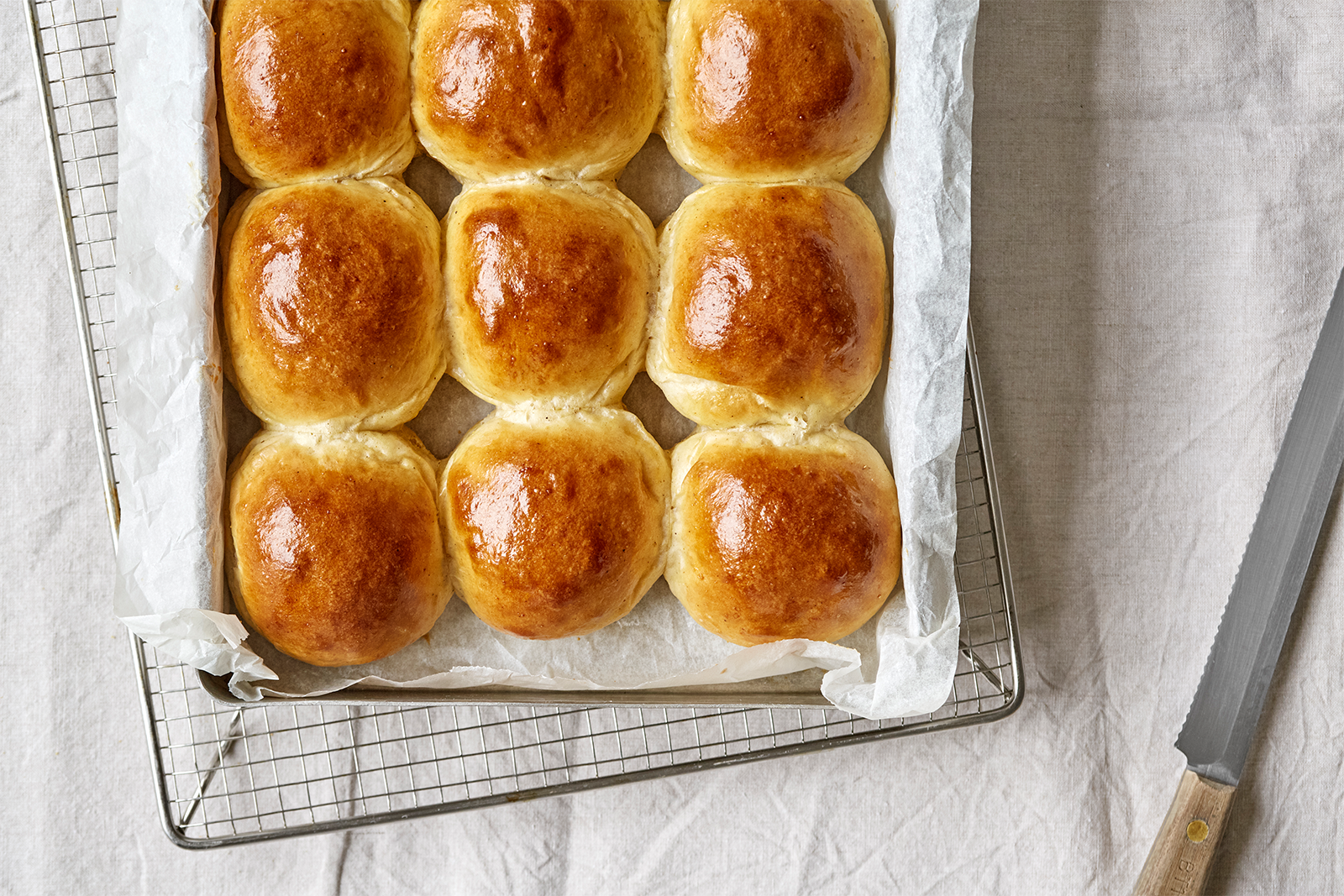 Makes 10-12 buns
Prep: 15 minutes
Total time: 2 hours and 15 minutes (including rising time)
Ingredients
2.5 dl / 1,05 cups whole milk

25 g / 0.9 oz fresh yeast

2 eggs

40 g / 1.4 oz sugar

1 tsp coarse salt

2 tsp ground cardamom

500 g / 17.5 oz all-purpose flour

100 g / 3.5 oz butter
For brushing
Method
Heat milk in a saucepan until warm to the touch (25°C / 77

℉

). Transfer milk to a mixing bowl and dissolve the yeast in the milk.

Add the remaining ingredients except for the butter and knead thoroughly. Use a kitchen mixer to knead the dough if you have one.

Cut the butter into cubes and add to the dough. Knead for 5 to 10 minutes until the dough is elastic and smooth.

Cover the dough and let rise in a warm place for 45 minutes.

Transfer the dough to a counter sprinkled with flour and divide into 10-12 pieces of equal size. Roll each piece into a round bun and arrange the buns close to each other on a lined roasting pan or oven-proof dish (approximately 20 x 30 cm). Cover the buns and let rise for approximately 1 hour until they double in size.

Heat the oven to 180°C / 356

℉

on fan setting.

Beat the egg in a small bowl and brush the tops of the buns with egg. Bake on the middle oven rack for 14 to 16 minutes until the buns develop a nice golden surface. Serve warm or toasted with butter.