Christmas
Braised Red Cabbage
The Danes traditionally serve a pickled red cabbage for the Christmas Eve dinner. In Danish, the dish is called rødkål, and might be hard for non-Danish speakers to pronounce.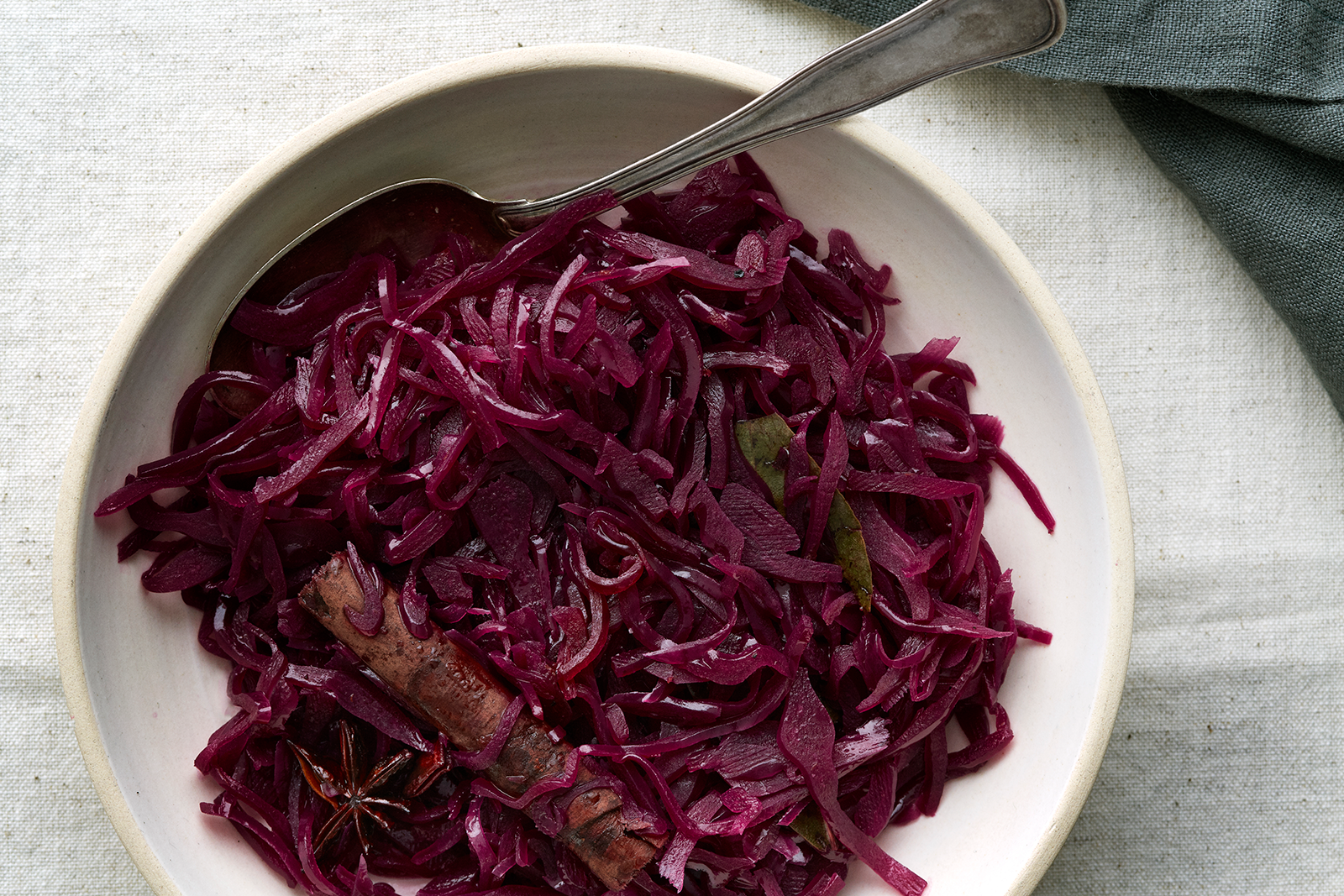 Red cabbage was introduced as a Christmas dish in the 1800s and is said to have been a result of a period of nationalism in Denmark, historically referred to as 'national romanticism'. Along with the peeled and boiled potatoes, the red cabbage was supposed to make the Danish Christmas table reflect the red and white colours in the Danish flag.
Serves 8
Prep: 15 minutes
Cook: 45 minutes
It is a good idea to prepare the stewed red cabbage a couple of days before serving – the flavours develop and improve this way. Just reheat with a tablespoon of butter or a little extra redcurrant cordial.
Ingredients
1 kg / 35 oz red cabbage, sliced in strips
3 tbsp duck fat (or neutral vegetable oil/butter)
1 dl / 0.4 cups apple cider vinegar (or white wine vinegar, blackcurrant vinegar)
2 dl / 0.85 cups concentrated redcurrant cordial
2 tbsp honey
2 whole star anise
2 cinnamon sticks
2 bay leaves
1 tsp salt and pepper to taste
2 tbsp grated organic orange zest
Method
Slice the cabbage in thin strips using a knife or mandoline.
Heat the duck fat in a large saucepan. If you do not have duck fat, use oil or butter.
Fry the red cabbage in the saucepan for a couple of minutes over low heat until the cabbage wilts slightly.
Add the vinegar, redcurrant cordial, honey, star anise, cinnamon sticks, bay leaves, salt and pepper.
Cover and simmer over low heat for about 40 minutes. Stir the cabbage at regular intervals and add more cordial or water if the pan boils dry.
Season to taste with grated orange zest, extra honey, salt and pepper.
Transfer the red cabbage to a sterilized glass container if you are not serving it immediately.
Before serving: Reheat the red cabbage with little butter/duck fat and season to taste again.