Christmas
Risalamande - Danish Rice Pudding
Risalamande has been a beloved Christmas dessert in Denmark for decades. It is known from around year 1900, when the upper class began serving Risalamande with cherry sauce for Christmas instead of rice porridge.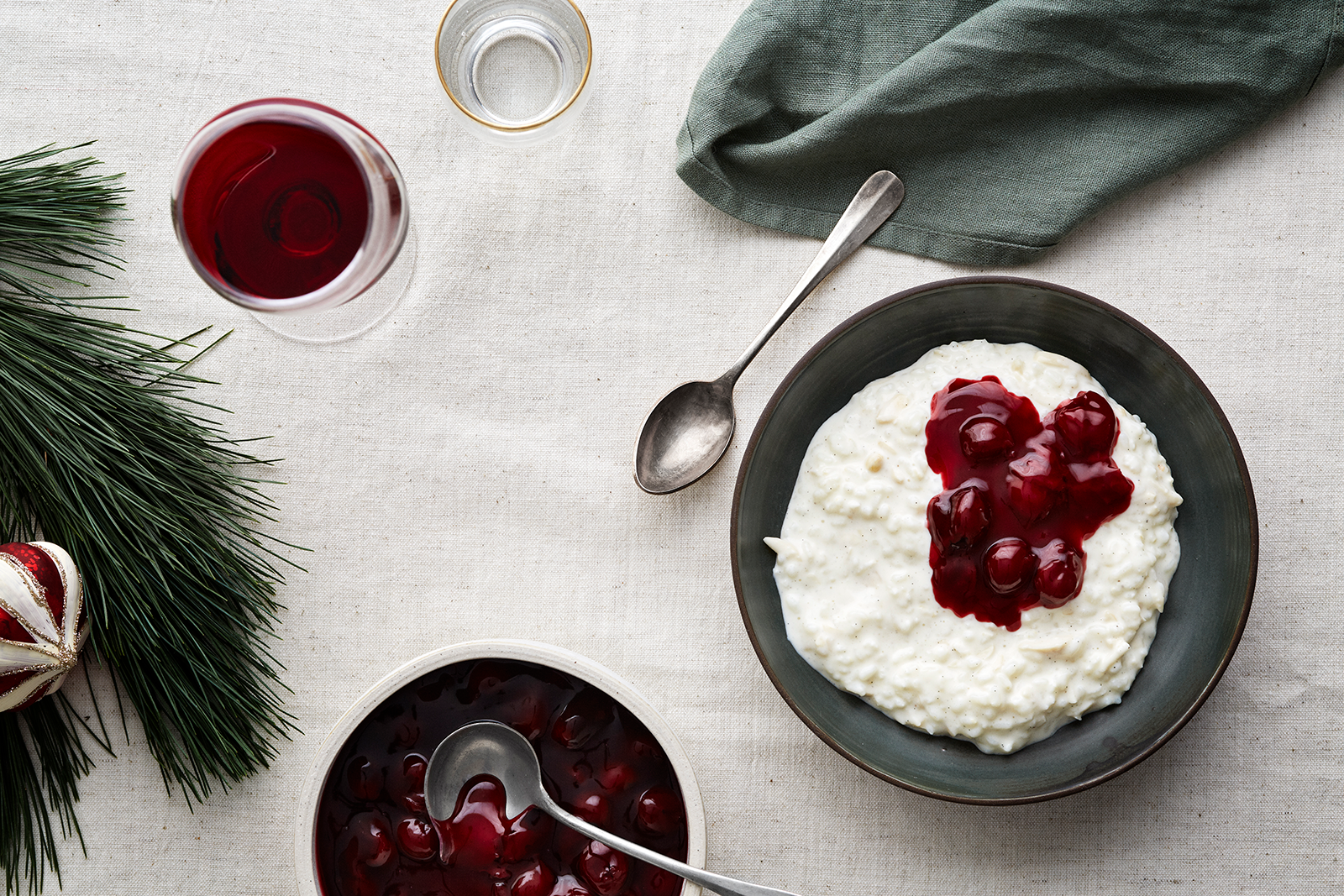 Serves 6
Prep: 1 day
Cook: 1 hour
Ingredients
Rice porridge
1 litre / 4.2 cups whole milk
2.5 dl / 1.05 cups short grain white rice
Pinch salt
Danish rice pudding (Risalamande)
½ litre / 2.1 cups heavy cream
150 g / 5.3 oz almonds
2 tbsp sugar
2 whole vanilla beans
Danish cherry sauce
Method
Rice porridge
It is a good idea to make the rice porridge the day before making the rice pudding. The rice porridge must be completely cold.
Slowly bring the milk and rice to a boil while stirring. Add a pinch of salt.
Reduce the heat and simmer for about 40 minutes. Remember to stir frequently.
Refrigerate until the following day.
Danish rice pudding (Risalamande)
Pour boiling water over the almonds and soak for 10 minutes. Then remove the almond skins and coarsely chop all but the largest and best whole almond, which will be in the bowl of the lucky winner later that evening.
Split the vanilla beans and scrape out the seeds. Using a fork, press the vanilla seeds into a spoonful of sugar on a cutting board to separate the seeds, and then stir to combine with the rest of the sugar.
Lightly whip the heavy cream in a separate large bowl. The cream must thicken but must not turn stiff.
Gently fold the chopped almonds, vanilla sugar and whipped cream into the cold rice porridge.
Remember to add the whole almond to the bowl and refrigerate the rice pudding for 1 hour.
Serve with heated Danish cherry sauce.
Did you know
The chef hides one whole almond in the Risalamande and whoever gets it it wins a present.