Christmas
Brunkager - Danish Gingerbread Cookies
The Danish gingerbread cookie or Brunkage, as it is called in Danish, is a very traditional Danish Christmas cookie. Brunkager is eaten throughout the month of December.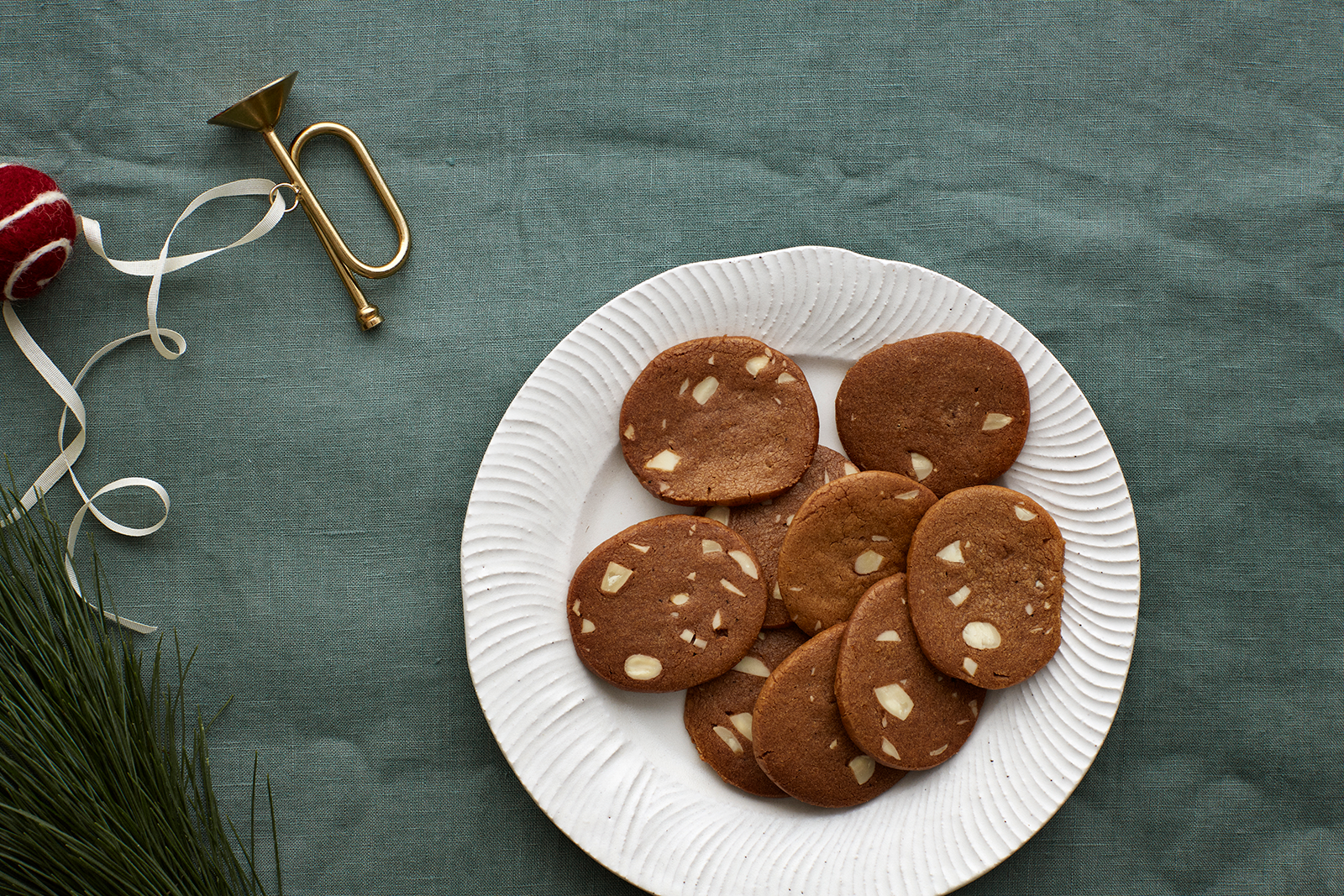 Makes 70 brunkager
Prep: 1 day
Cook: 15 minutes
Recipe
50 g almonds, blanched and coarsely chopped
125 g / 4.4 oz butter, unsalted
65 g / 2.3 oz light syrup
125 g / 4.4 oz dark brown sugar or granulated sugar
250 g /8.8 oz flour
1 tsp cinnamon
1 tsp ground ginger
½ tsp ground clove
½ orange, organic (finely grated zest and 1 tbsp juice)
1 tsp "potaske" (a Danish product containing potassium carbonate) – can be substituted with baking soda, but the result will not quite be the same.

Method
Remove almond skins (if necessary) by pouring boiling water over whole almonds and soaking for 10 minutes. Then press the almonds out of the skins, adding additional hot water along the way to keep the skins loose. Coarsely chop blanched almonds and set aside.
Melt the butter, light syrup and dark brown sugar in a saucepan. Bring the sugar mixture to a boil and remove from heat. Transfer the sugar mixture to a new bowl to cool.
In a bowl, mix the flour with cinnamon, ginger, cloves, grated orange zest and chopped almonds.
Dissolve the "potaske" in 1 tbsp orange juice and stir into the sugar mixture. Baking soda can be used as a substitute, but the texture will not quite be the same.
Stir the dry ingredients into the sugar mixture, adding a little at a time. Knead thoroughly and let the dough cool completely.
Divide the dough in half and roll into two cylinders, approximately 4 cm /1.5 in in diameter. Wrap in plastic wrap and refrigerate until the next day. You can also prepare this dough several weeks in advance, and it can keep in the freezer for up to three months.
Baking
Heat the oven to 180°C / 355°F on standard setting (not convection).
Remove dough from the refrigerator and cut in thin slices. Bake the cookies on a lined baking sheet for 5 to 7 minutes. All ovens are different, so keep a close eye on the cookies as they bake.
Cool the cookies on a rack and store in a cookie tin.