Transportation
Infrastructure in Denmark 
Denmark's advanced and well-functioning infrastructure is one of the secrets of its success.
The Kingdom of Denmark opened its first railway in 1847. It went from Copenhagen to Roskilde - a journey that takes 22 minutes in modern trains. A lot has happened to all kinds of infrastructure since 1847.

Today, Denmark offers the most reliable electric grid in Europe – with 99.997% uptime – as well as clean water and well-maintained road and rail systems. The Danish telecommunications network is cutting-edge and broadband internet access is available almost everywhere. And Denmark's location makes it an excellent transport hub for both Northern Europe, Scandinavia, and the Baltic Sea region.
Did you know
Denmark is one of the countries with most motorway per capita?
Copenhagen Airport serves Denmark and Southern Sweden
Copenhagen Airport, which served more than 30 million passengers in 2018, has repeatedly been ranked as one of the world's top airports.
The airport is located only 8 kilometres from the Copenhagen city centre and is accessible by car, metro, train and bus. Sweden is only minutes away via the Øresund Bridge.
Denmark also has international airports in Billund, Aarhus, Aalborg, Esbjerg and Sønderborg, all located on the peninsula of Jutland.
There is a modern, comfortable railway service connecting all the large and medium-sized cities in Denmark. Long distance buses operate between the major cities.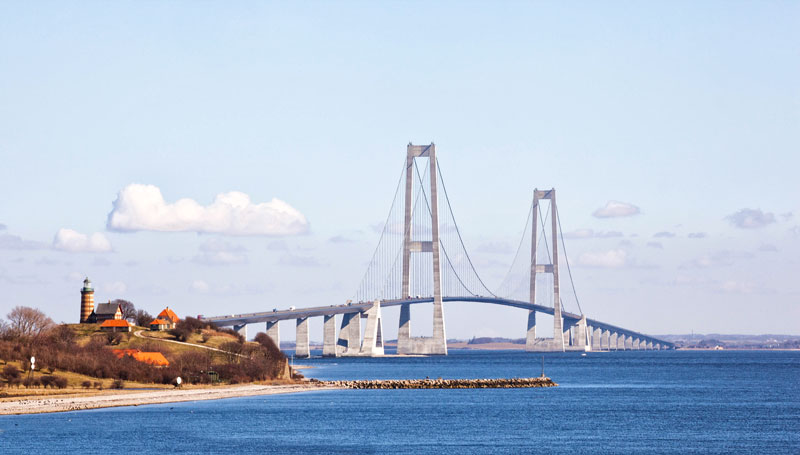 Driving in Denmark
Driving a car is easy, and Denmark's roadsystem is connected by 1,100 kilometres of motorway.
Bridges linking the peninsula of Jutland and the islands of Funen and Sealand as well as southern Sweden have helped decrease transport times. The 17 kilometre long Great Belt bridge connecting Sealand and Funen (inaugurated in 1998) and the 15.9 kilometre long bridge-tunnel-combo connecting Copenhagen and Malmö in Sweden (inaugurated in 2000) are impressive engineering feats.
Ferries are still a transport option, but they have become less popular with the construction of the two important bridges.
In cities, extensive bus networks move passengers around. Copenhagen has a local train network, the S-train, with 84 stations throughout the city and its suburbs, plus a Metro that serves the central parts of the city. In the fall of 2019, "Cityringen" opened with 17 new underground metro stops connecting more of Copenhagen with easy access to a metro.
In Aarhus and Odense, light rail train networks are being put into place to connect the existing city to districts outside of the cities.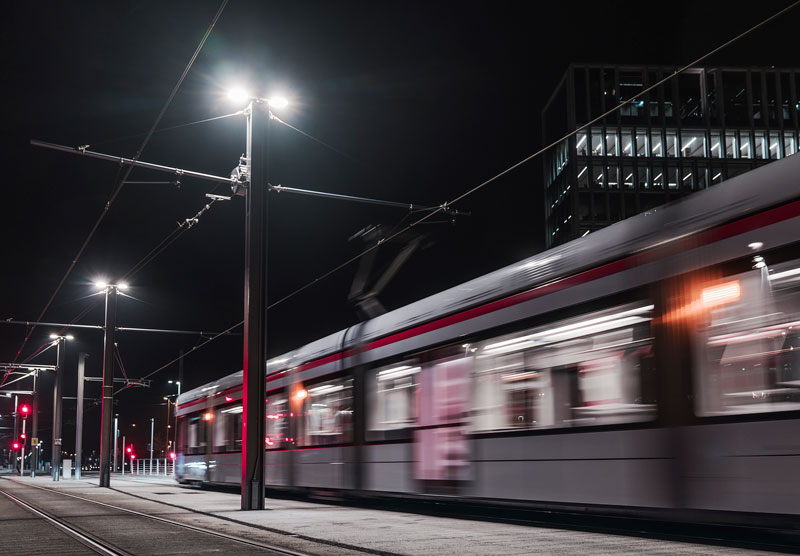 Electricity infrastructure
Danish industry benefits from the country's extremely resilient electrical system.
The Danish power grid, connected to that of Norway and Sweden to the north and Germany to the south, has plenty of built-in redundancy, with the option of tapping into neighbouring grids for reserve power, if necessary.
Broadband internet is also available almost everywhere in the country, with 92% penetration in 2016. Most financial transactions are conducted online, and so is most citizen business with the Danish government, which is committed to digitalisation.