Design
World-famous Danish design
Simplicity, functionality, and elegance - these are the basic aspects of Danish design. Nature is often part of the inspiration, and sustainability is key. Furniture, architecture, fashion, and jewellery are areas in which Danish designers excel.
Danish design is known all over the world for its sleek lines and sophistication. It first became popular in the 1940s and 1950s, when the light and simple style of Danish furniture proved a good fit for the clean lines of the new International Style architecture.
Chairs, lamps, silver, glass, and textiles from Denmark were soon sought after by design lovers everywhere. Many of those mid-century examples of Danish design are now seen as art pieces and are sold for thousands of dollars at auction houses. But Danish design continues to evolve, and today beautiful Danish furniture, jewellery, and other design objects are available at all price levels.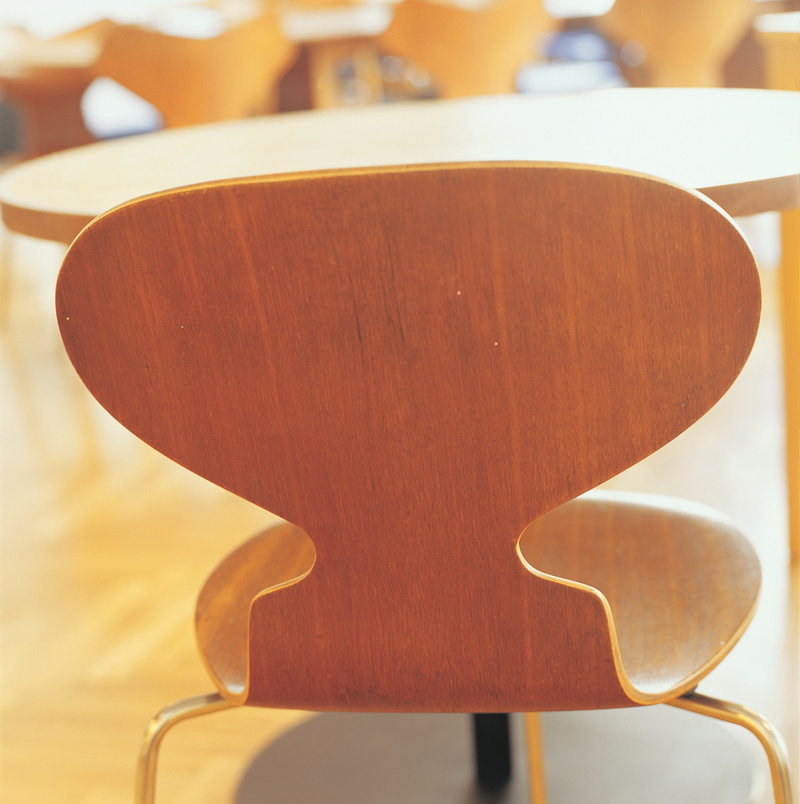 Famous Danish designers
The best known 20th-century Danish designer is probably Arne Jacobsen (1902-1971). His modernist chairs with names like The Ant, The Swan and The Egg are still in production today and are seen all over the world, usually in office, lobby, or airport settings. In addition to their elegant styling, they are ergonomically designed and comfortable to sit in.

The most famous style of Danish lamp, the PH Lamp, was originally designed by Poul Henningsen (1894-1967). Feeling the light from early bulbs created too much glare, Henningsen created delicate, graceful lamps that diffused soft light throughout a room. He is especially well-known for his Tivoli lamp, designed so that its light cannot be seen from above. It was made so that the famous Tivoli Gardens amusement park in Copenhagen could stay open during World War II blackouts.

The Danish silversmith Georg Jensen (1866-1925) trained as a sculptor but turned to metalworking to support his young family. He combined the two disciplines to create simple pieces with smooth, organic lines. Today Georg Jensen bowls, candlesticks, cutlery, and jewellery are sold in boutiques worldwide.
Did you know
In addition to Danish Design Museum, Copenhagen's new building, BLOX, is also worth a visit. BLOX promotes sustainable urban development and houses Danish Architecture Centre.
Creative Danish architecture
Architecture has always been a part of the Danish design scene; in fact, it was once common for an architect to not only design buildings but everything inside, including furniture, textiles, and cutlery for the restaurant. Anton Rosen (1959-1928) did this for the Palads Hotel on Copenhagen City Hall Square in 1909, and in 1960 Arne Jacobsen did the same for the SAS Hotel near Copenhagen Main Railway Terminal.
Probably the best known Danish-designed building is the Sydney Opera House (1973) in Sydney, Australia, a pioneering structure based on concrete shells by architect Jorn Utzon (1918-2008). Although the construction process was troubled, Utzon was able to see the building named a World Heritage Site in 2005 while he was still alive, a rare honour.
Among the current group of Danish architects, Bjarke Ingels and his BIG Group are known for their witty, unconventional approach to building, such as Amager Bakke, a waste-burning station with a year-round artificial ski slope on top. The "new city" of Ørestad near Copenhagen features creative and sustainable buildings by a number of Danish architects, including BIG, Henning Larsen, and 3XN.
Danish fashion and Copenhagen Fashion Week
Danish fashion has made a name for itself in the past two decades with its cool, simple shapes and respect for sustainability.
Fashion for women focuses on elegant, easy-to-wear garments. Munthe offers an urban bohemian look, while Baum und Pferdgarden is known for the sharp contrasts in its design. Day Birger et Mikkelsen highlights contemporary everyday glamour; Ivan Grundahl constructs understated avant-garde clothing. By Malene Birger sells classic, sophisticated fashion.
The trendy label Wood Wood is known for hip, unisex clothes for young people, and the popular brand Ganni has a humorous, youthful approach.
Every year, Copenhagen hosts two popular fashion weeks. Read more about Copenhagen Fashion Week.